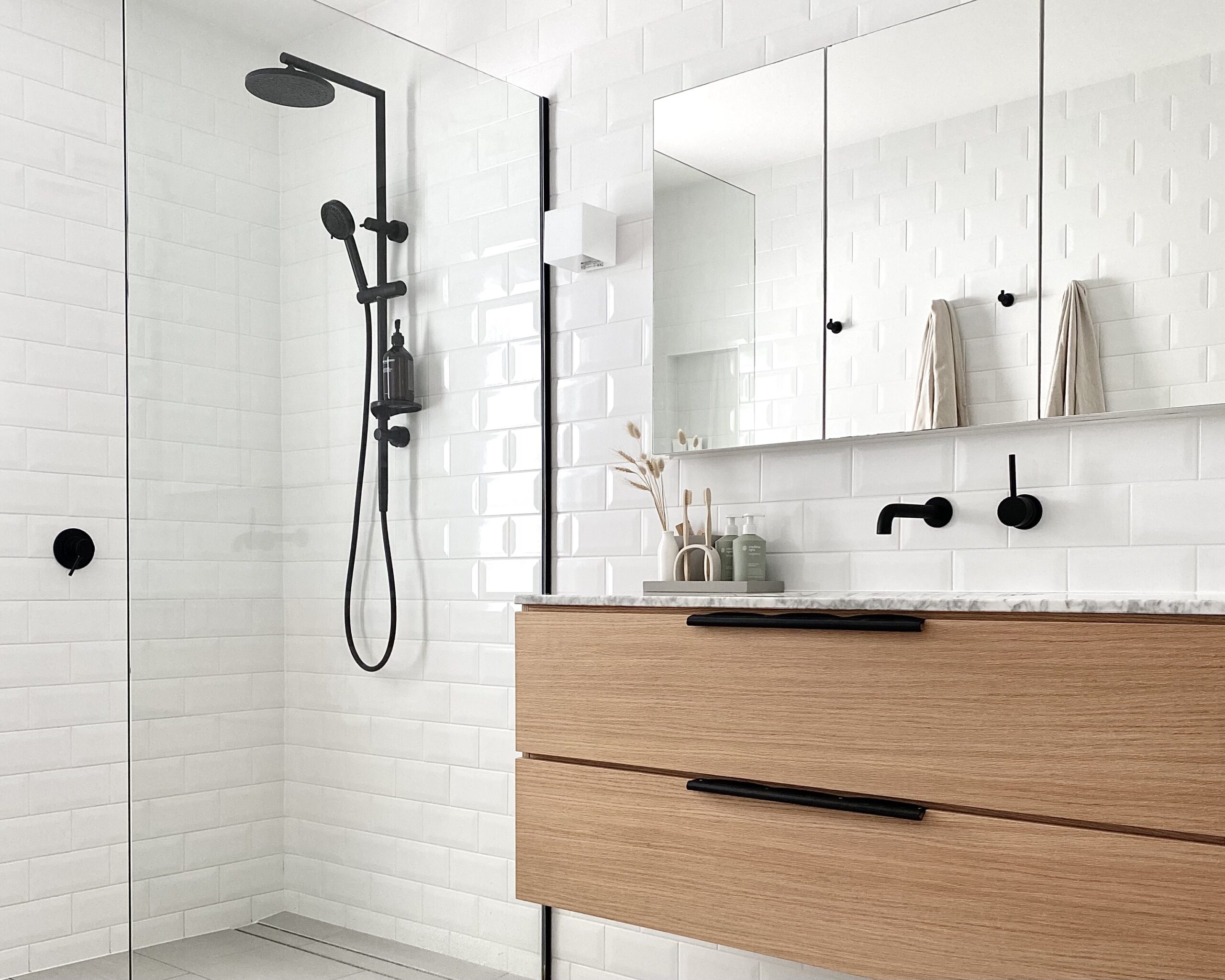 The Design Choices that Transformed our Bathroom
As you can probably appreciate from our before photos, our main bathroom (I'll share the other once it's converted to a courtyard laundry/powder room) was a definite 'thong in shower' situation – and if we wanted to move in by October after purchasing in July, it needed to be updated fast!
Now we weren't too organised with planning before buying and with three months to get in to our Casa (because double rent!) she was tight! Both working full-time, we only really had seven weekends (just over two weeks) due to wedding commitments and a 10 year anniversary holiday we'd had booked in since that February, to both pack up our existing place and just do it!
We couldn't really mess around with major structural changes as a result, so decided to focus on the basics and make our Casa liveable before tackling too much else. And to be honest, the existing separate toilet/bathroom layout worked for us anyway – that way you could be using both at the same time, making getting ready much less stressful in the mornings.
To this day – we are so happy with how our bathroom turned out!
---
SO WHAT WERE WE WORKING WITH?
Limited floorspace (only around 4m2 if you discount the linen cupboards we eventually knocked out), only one window, no exhaust, and an outdated blue colour scheme meant a poky existing design (think massive linen cupboard but zero vanity storage, and a walkway clearance that was no longer to code), not great lighting, mould central on the 1970s asbestos walls and mosaic tiled floor, and a cold, washed out aesthetic, that didn't even align with the late-80s designed toilet!
It wasn't pretty! So we gutted and started again within the same structural walls…
WHAT DID WE WANT IT TO BE?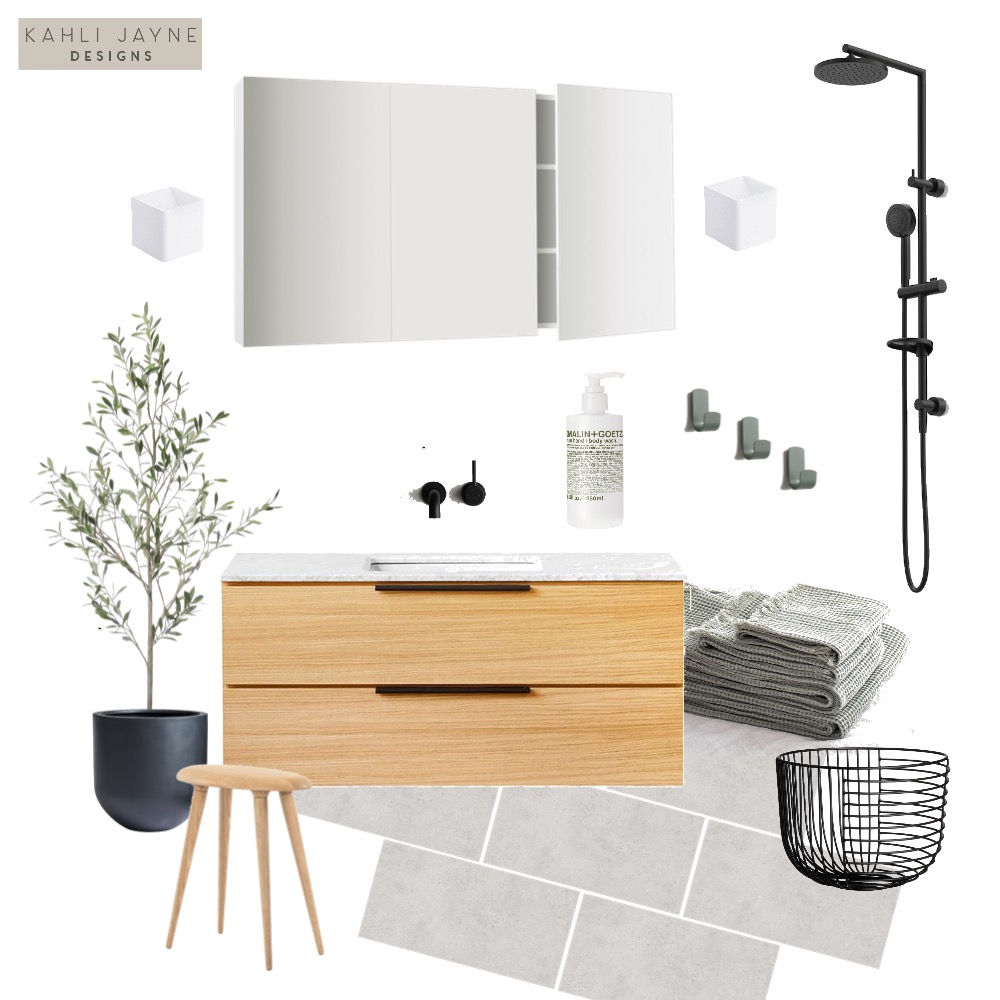 A light, bright, open and inviting haven
Spacious enough for at least two people to move around in at the same time
Easy to keep clean and uncluttered for guests, and
Modern but neutral and timeless enough to hold its own for the next 20 years.
After following quite a lot of these tips to help keep us sane, we aligned on the three non-negotiables we thought would help achieve what we wanted, to keep us on track and flexible if other things couldn't be met.
These will be different for everyone, but for us they were:
More vanity storage (to help with clutter and make it easier to move around)
Better use of natural light/lighting (to help deliver a light, bright, open and inviting aesthetic), and a
Frameless shower screen (also for the above – helping to reduce visual clutter).
Everything else was planned around these, and were really just bonuses in the end.
THE DESIGN CHOICES WE MADE TO ACHIEVE OUR VISION: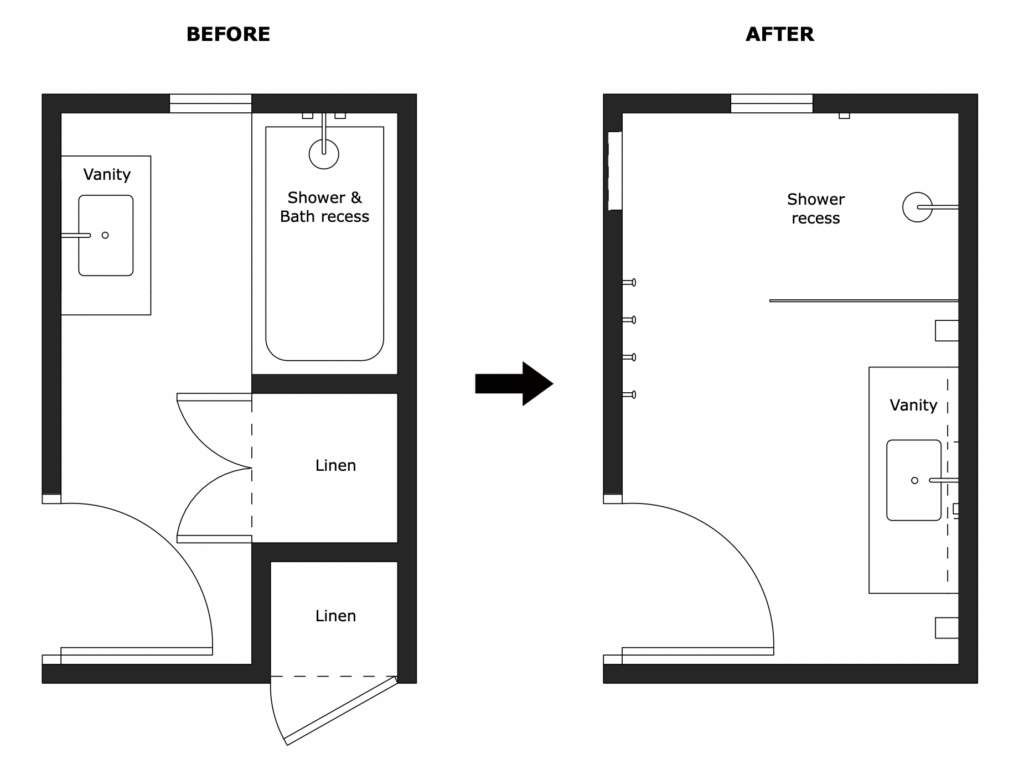 We gutted everything, knocking out the linen cupboards for more floor space (we'll tackle them later in our kitchen reno) so we could start with a blank canvas and get walkway clearances right
A 1200mm wide mirrored shaver cabinet positioned where light from our only window hit, not only helped bounce light around but offered extra storage
We opted for a floating instead of standing vanity with deep pullout drawers that would complement our shaver cabinet storage with space for larger appliances (plus no more trying to see what's at the back of a cupboard!), and facilitate more flow and openness within the space itself (no more trying to vacuum/mop around cabinet legs or in tight corners!)
We integrated GPOs in all our cabinets to ensure bathroom appliances like electric toothbrushes, shavers and hairdryers could charge out of sight
Having a frameless shower screen as a non-negotiable would allow light to filter through unimpeded and give the illusion of less "volume" cluttering the space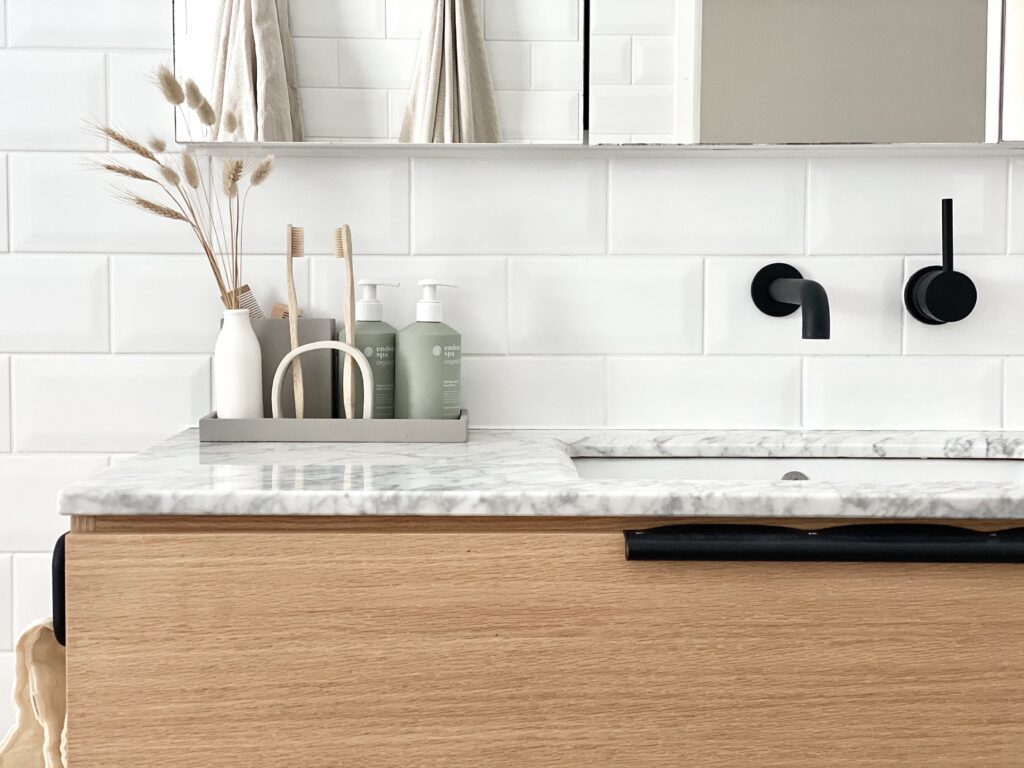 Selecting uncomplicated, timeless finishes in neutral tones (white, grey, black, timber) would allow for multiple styling options and design longevity as trends shifted, until we had more time to consider the rest of the house
Neutral doesn't have to be boring though: you can use texture, shape and pattern to make things interesting, and that's exactly what we did! We laid our bevelled edge subways in a horizontal brick bond pattern to give the illusion of an industrial brick wall (complementing what 50% of our exterior was), and chose light concrete-look tiles offset by a highly-veined marble benchtop to contrast all the white and each other
This lighter colour palette further brightened our space, and the addition of timber helped ground it adding much needed warmth
In particular, the gloss white subways again helped to reflect light around the room
Plus dedicated sconces for ease of makeup application and lighting in a less cool colour temperature "lifted" things even more
And finally, floor to ceiling tiles with a heat exhaust would stop the ghastly mould situation in future!
Sure if we had a bigger budget, no structural restrictions and more time, I might have added in a few more luxuries, but three years in and she's still satisfying everything we set out to achieve, with no signs of falling short just yet!
Much love and laughter,
XO