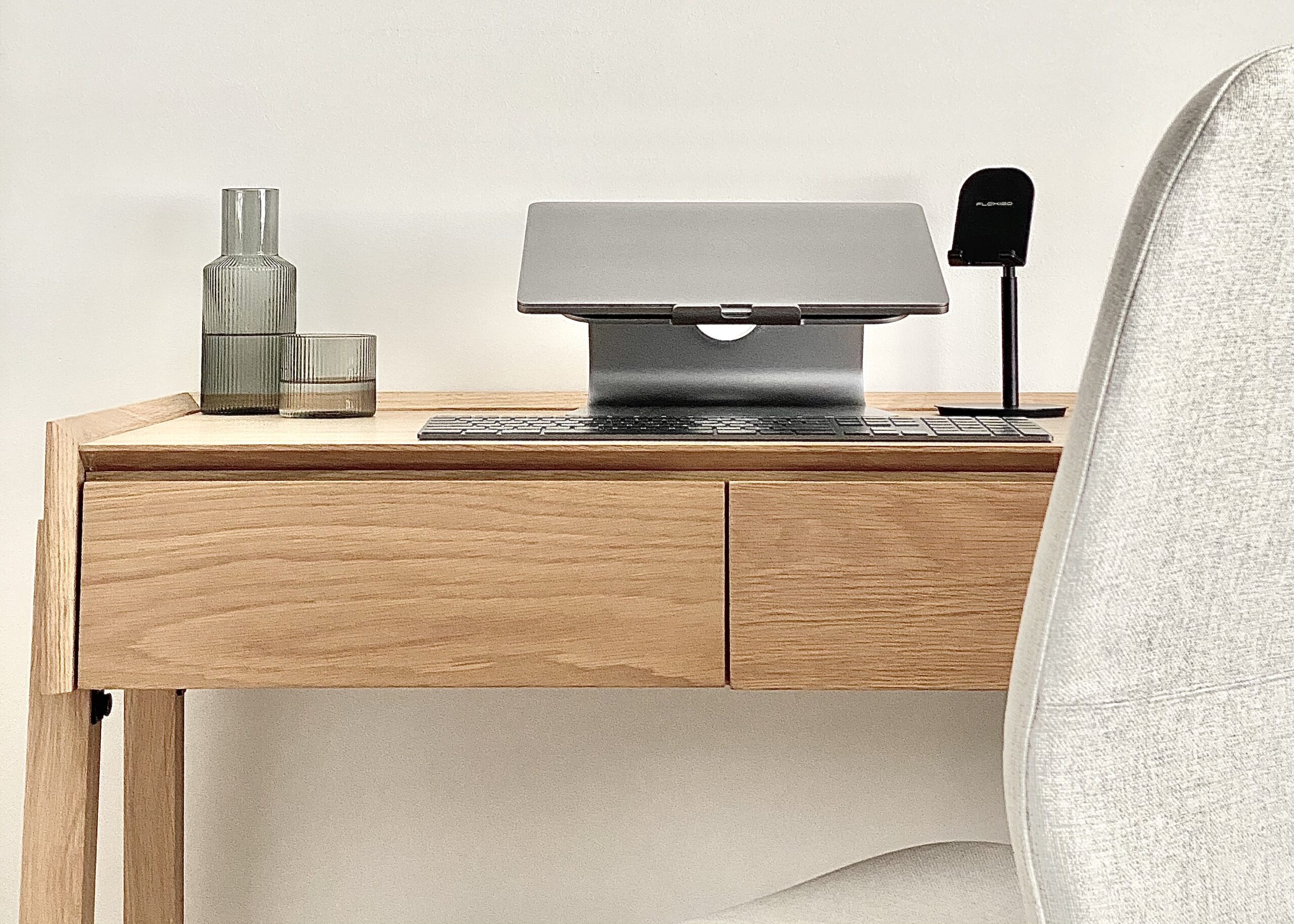 Five Essential Steps for a More Productive Home Office
After 2020 and the global pandemic that gave us a rude hello, I think we can all agree that it looks like random lockdowns, border closures, and the need to suddenly work from home at any given moment is now the new normal – so it's important you're setup for success.
There's been mixed reports about what we'll see trending through interiors after the fallout of 2020, especially as people come to realise some of the impracticalities of open plan living in close quarters (think littles in lockdown and limited zoning) – or has it been so impractical? And to that I say – depends on your peripheral responsibilities (ahem: "Share with your brother Karen!"), and how you work best. Whether you're team open plan or not, one consistent theme emerging is more dedicated space for the humble home office.
In truth, the flexible working trend started over a decade ago as the miracles of technology began making it possible to work from anywhere, and while some antiquated workplaces took their time to catch on, it's been given a rather abrupt nudge in 2020 – and I believe, is now here to stay.
Now I'm obviously not going to be able to take away the joys of home schooling, or single parenting through a lockdown – but these essential steps should have you ready for success in a range of environments, whether your setup is the end of a dining table, kitchen bench, cupboard shelf, butler's pantry, study nook, bedroom desk, or dedicated room.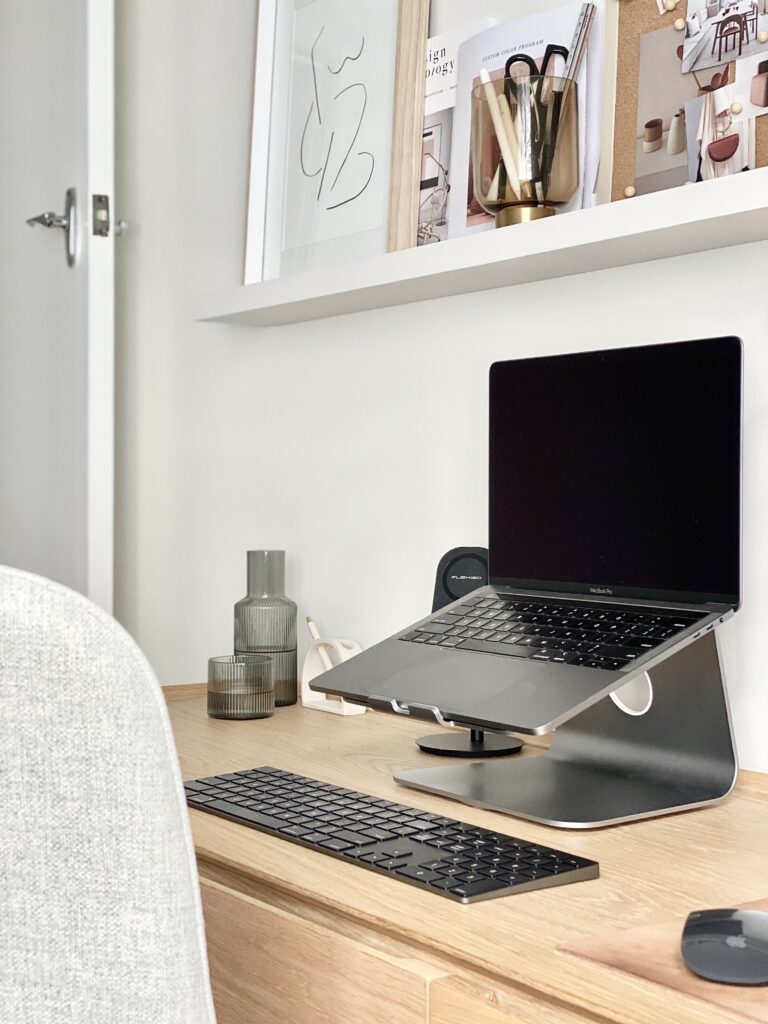 STEP 1 – Digitalisation
Because guess what? The more tasks you complete and documents you store virtually, the less filing furniture and workspace area you're going to need, meaning the location options for setting up your home office are way more versatile and flexible, and way less straining on your wallet. Now I'm no stranger to beautiful stationery and décor like the next girl (and we'll get to that in STEP 5), but if you can keep the paperwork to a minimum it's a win-win – and we all need some Marie Kondo in our lives.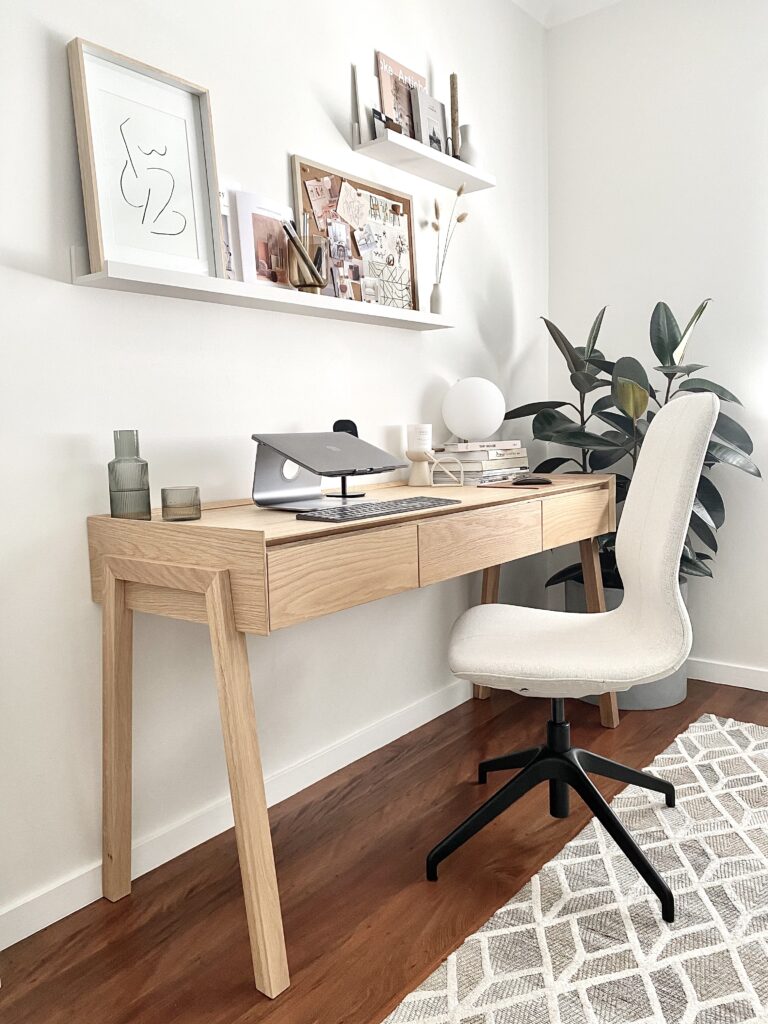 STEP 2 – Task assessment & location zoning
Not all of us have the option of a guest bedroom, garage or loft conversion, or an isolated back garden room for that matter, and sometimes whether you like it or not, you simply can't afford to be isolated altogether anyway. So first, weigh up what you need to do while you're working. Ummmm… working? You say – while watching kidlets, food prepping, and waiting for the washing to be done in time for your next video conference. And if all of that has you running screaming, or you're wanting to avoid exactly that on your next Zoom call, then perhaps an open plan setup isn't quite for you. If however, there's no way you'd let certain things out of your sight ("Karen! That is the last time I'm coming over there…") – open plan could be your best friend. Or, if you and your partner are both working from home, porque no los dos? They didn't invent hotdesking (although obvs not so hot in large scale scenarios at the moment) and activity-based work zones for nothing – setup two spaces in different zones (say a dedicated room/cupboard shelf, and dining table end) and rotate between them so you can share the load.
Fundamentally, consider what you'll need day-to-day and the things you reference frequently, so that you can ascertain how much desk or storage space you (really) need, and what your technology requirements like printing, video conferencing and computers are.
STEP 3 – Ergonomics and anthropometrics
Say what now? Basically – let's talk health and safety, or making sure your workspace isn't bothering you or others.
Re: Others
There are some basic measurements we as humans need to do things comfortably (think walkway clearances and pulling chairs in and out), and where you position your workspace and any extra seating should be considered with this in mind (especially if you're popping it in an existing walkway with crazy littles running around). As a minimum it's good to keep a walkway clearance of at least 100cm behind any pulled out chair or piece of furniture for major thoroughfares – elsewhere, you could go as low as 72-82cm (a doorway) with your chair pulled out, but proceed at your own risk. Also be mindful of your electrical and tech items – wiring is a trip hazard, so you don't want this running across a thoroughfare either – setup another power outlet or power pack, or make sure you have charging stations EVERYWHERE so you can operate wirelessly (things like dual desk lamp-charging stations don't go astray here).
Re: You
Make sure your setup is comfortable – but there's no need to go out and buy a whole new computer and desk setup, when a few simple additions can assist. Main things to consider are your screen, seat and arm rest heights – sometimes dining chairs and your laptop will cut it, sometimes they won't. Generally, the top of your computer screen should be at or just below eye level, and somewhere in the vicinity of 50-100cm away from you – one of the reasons why desk depths are usually between 50-70cm. That's not to say you can't utilise a console table or shelf in a cupboard, but just be mindful of the space you'll need. Seating-wise, there's really no size that fits all, and you'll really need to look for an overall fit that supports your back and encourages good seated posture – adjustable seat, arms, back and swivel action mean you can get in and out easily and adjust your posture throughout the day without straining to perform certain activities. You can also adjust your eye height to match your computer or if not, get a computer stand.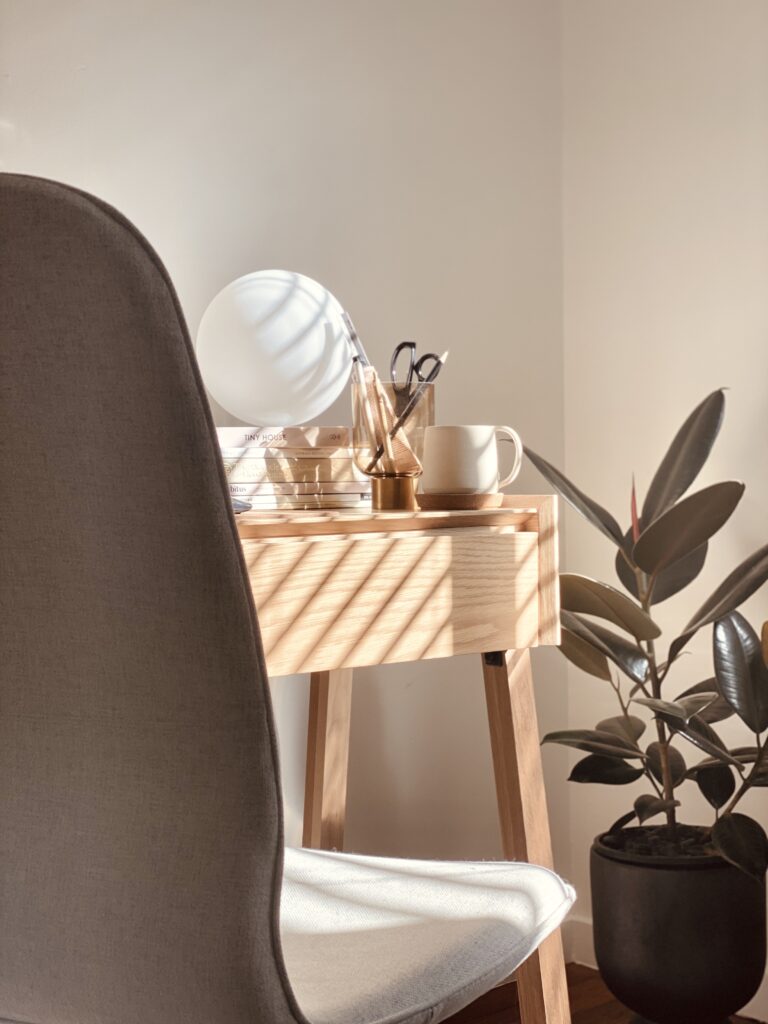 STEP 4 – Assess your lighting
You obviously don't want to be working in a dungeon, but you don't want to forever be squinting at the computer screen either. Natural over artificial light has been linked with higher levels of concentration, better short-term memory recall and therefore productivity, while reducing eye strain, electricity costs, and our carbon footprint – but if your computer screen is positioned in the wrong spot, this can cancel out all of the aforementioned, and make it virtually impossible to work. Ensure your windows have adjustable screening, or that you can position your screen anywhere that isn't directly opposite a window with flexibility to reposition. If you only have minimal daylight to play with, you might even want some task lighting. Where possible you want something cooler in the vicinity of 4000-5000K (or Kelvin) – 5000K is the closest to daylight in artificial form, and while probably too intense to be used liberally throughout the home, will brighten a task area up nicely on a desk or workshop bench.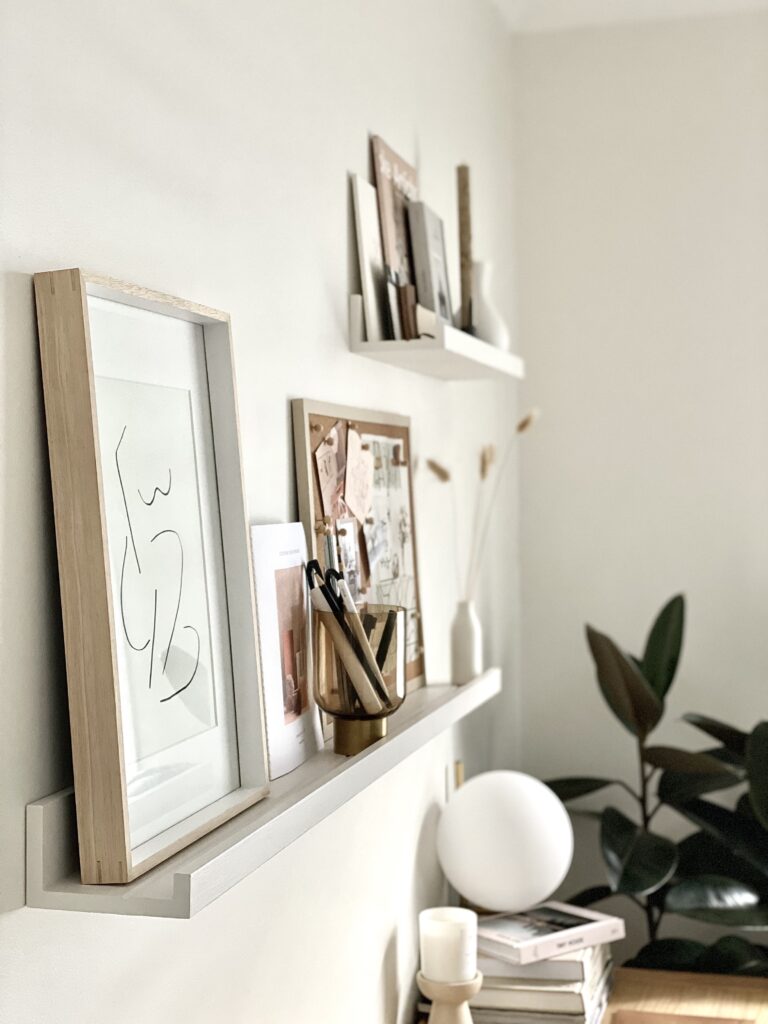 STEP 5 – Consider aesthetically-minded storage
Now sometimes there's no getting around storing some things (even in my industry – there's the dreaded samples boxes!), but where possible, have a place for everything. Then and only then, can you plan how – aesthetically – your office or workspace is going to look. After all, you want it to be a space you want to be in. While shelves and cabinets can be great places for functionally storing folders, boxes, tech, and writing paraphernalia, also consider where you'll display keepsakes like objects, vessels, artwork, calendars, plants and books that are uplifting, motivational and inspire productivity by reminding you why you're working in the first place. Just remember, the more that's out, the more to clean too – so get the balance right – and this will be individual to everyone. In terms of overall look and feel, if you're in a dedicated room something standalone from the rest of your house could work to help you focus better, but something squeezed into an open plan scenario might look better styled to match the rest of your home – completely up to you.
If you want to see how I approached what I have in my home office – check out this blog post.
If you're having trouble balancing function with aesthetics – get in touch – we offer a second opinion through to full design services, and would be more than happy to give you a few pointers on your home office space.
Much love and laughter,
XO