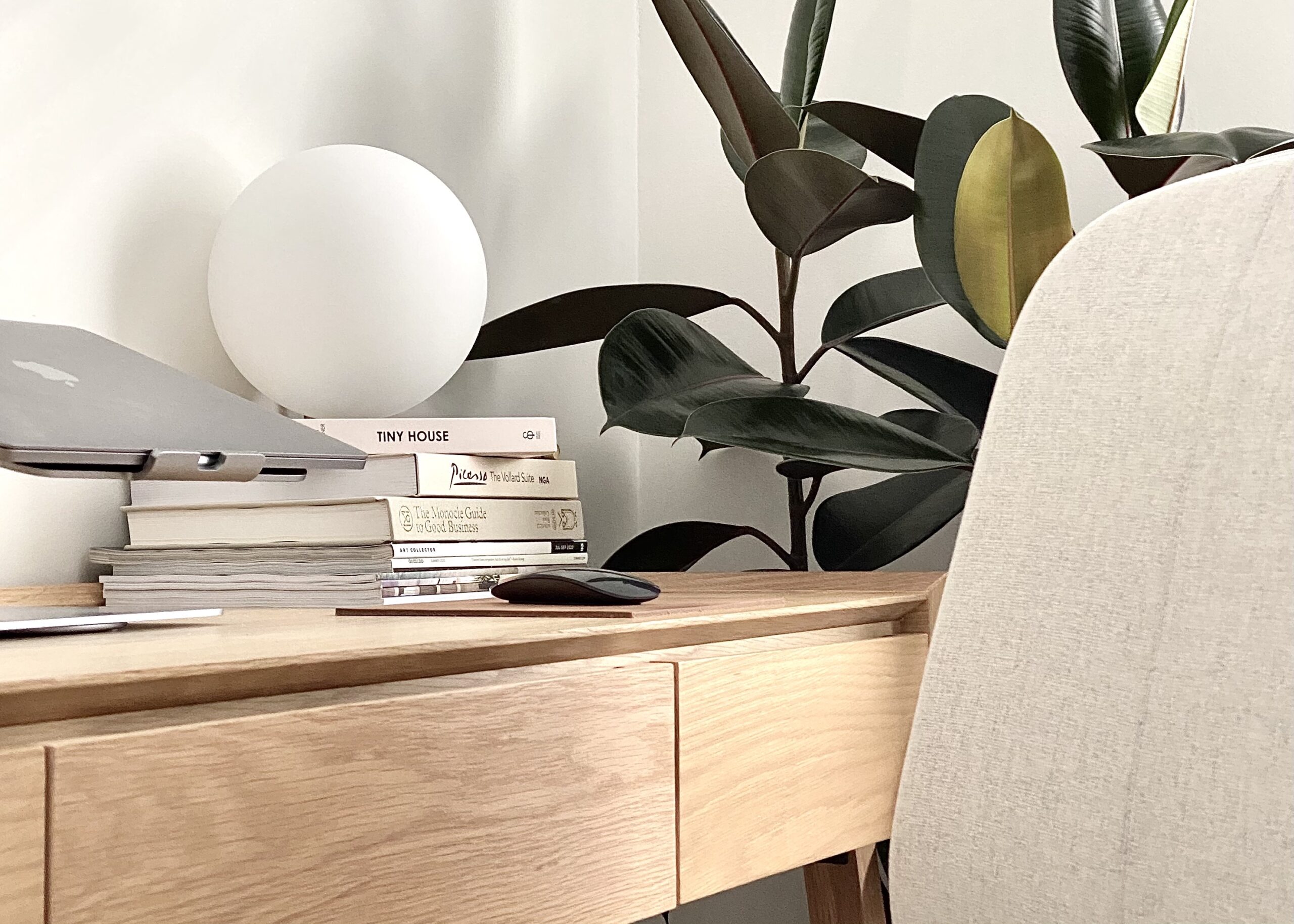 What You'll Find in an Interior Designer's Home Office
While the space (and budget) I was working with for my home office wasn't huge, I was pretty lucky to have a relatively blank canvas (even with keeping our original Brushbox hardwood floors). I followed my Five Essential Steps for a More Productive Home Office tips to design my space, and I'm really happy with how it's turned out for my business needs!
Check out my Instagram for what we were working with – but here's the original concept for my Japandi influenced home office: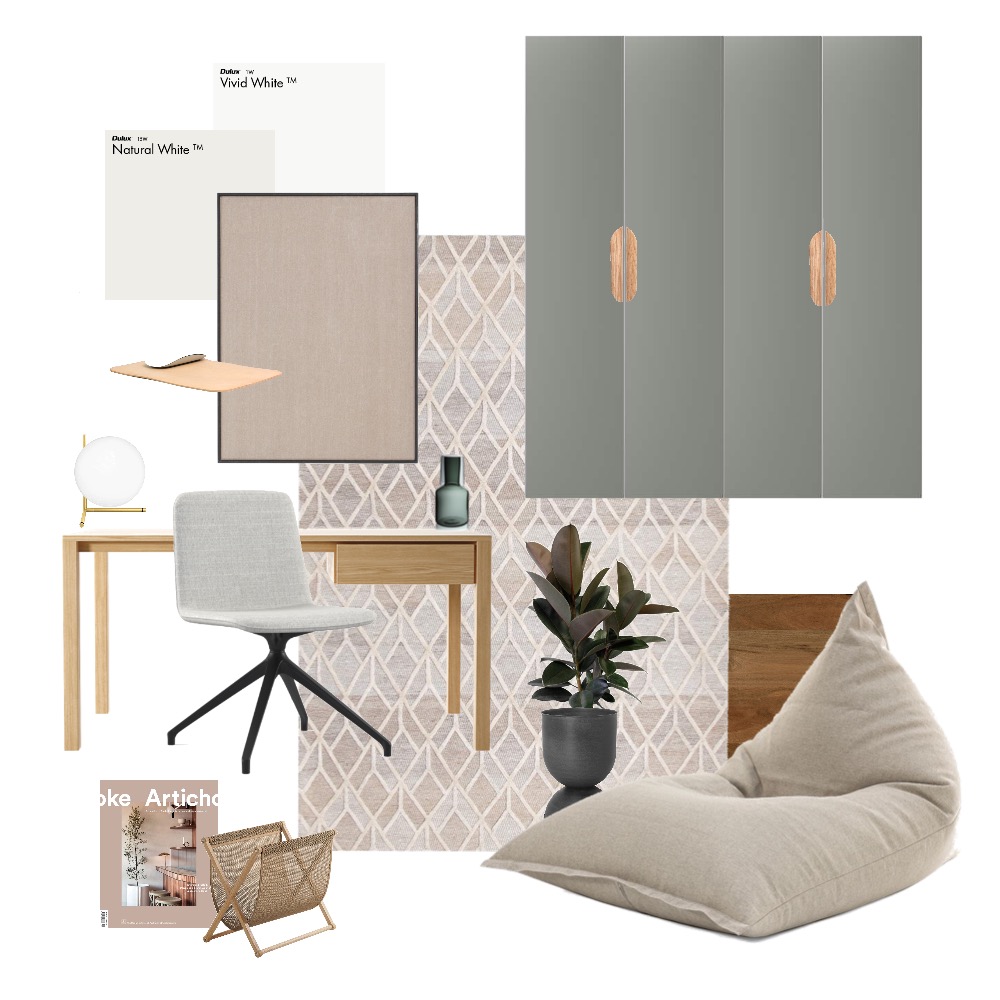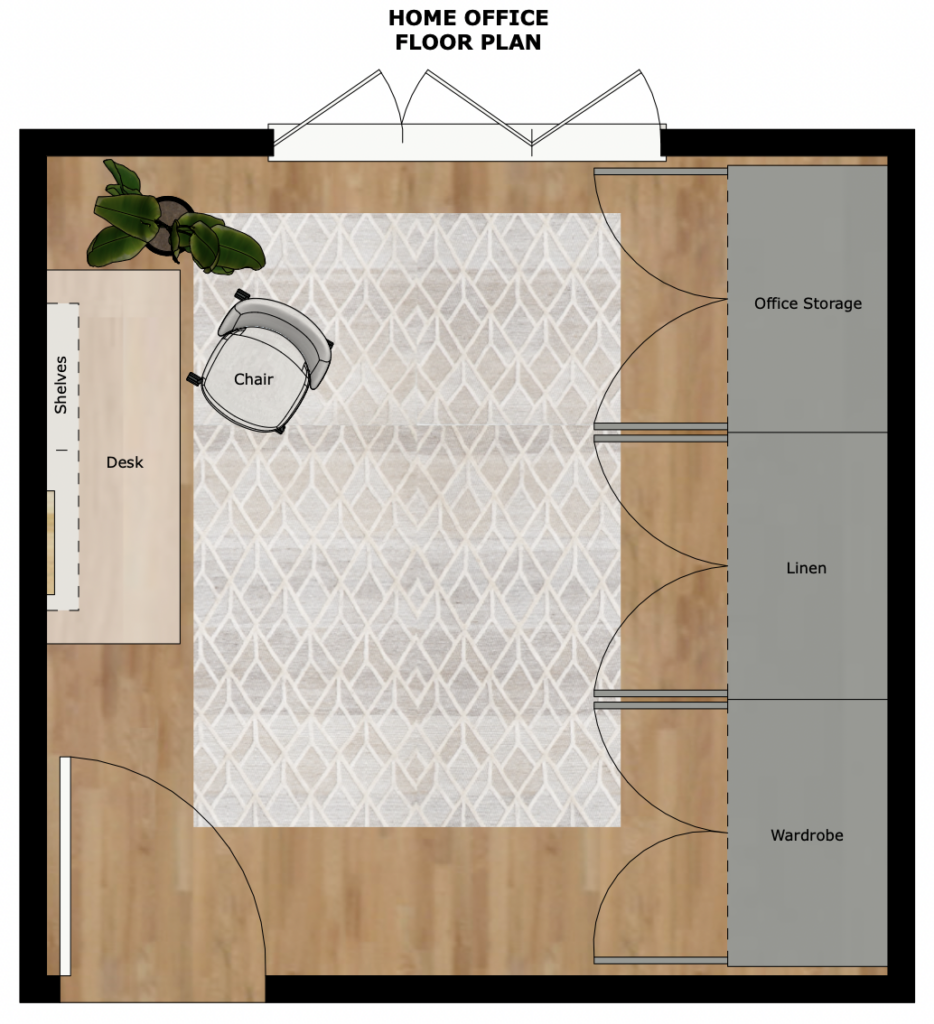 Moodboard items:
Atley.Co Leather Mouse Mat, Ikea REINSVOLL doors, Kethy Timber Archive Handles in Oak, Miss Amara Savannah rug (sold out sorry!), Ferm Living felt board and planter, Life Interiors desk, Jardan Mina Studio Chair, Michael Anastissiades lamp on 1stDibs.com, Finnish Design Shop Woodnotes magazine rack, Maison Balzac J'ai Soife Carafe & Glass, Target Australia bean bag.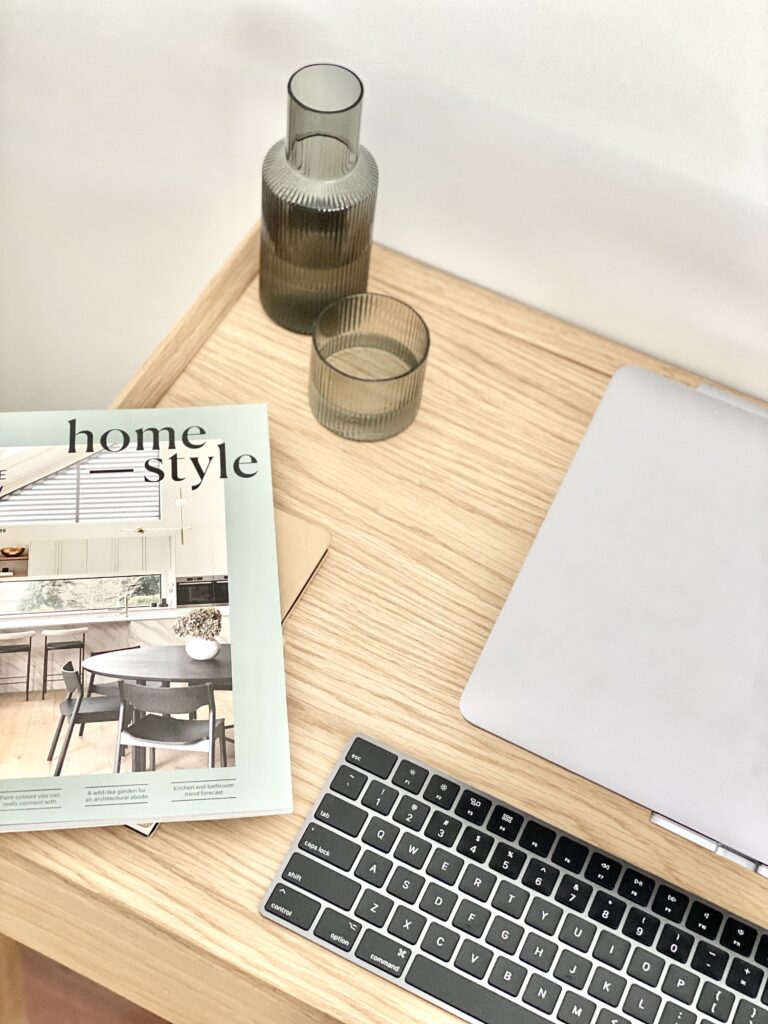 STEP 1
We've been digitising our life for a couple of years now and haven't looked back. We scan things like receipts and records into a budgeting or pdf app that then transfers files easily to our network storage so we can access on our computer and digital devices. I still need grid and tracing paper pads, and various pens, pencils and measuring tools for sketches, and there's some physical documents we all must keep on hand (like university degrees), but everything else can largely be done on my iPhone, iPad, MacBook, portable scanner, and A3 printer. If I was the average person, this means I'd be able to get away with a minimal drawered desk! But… cue design samples.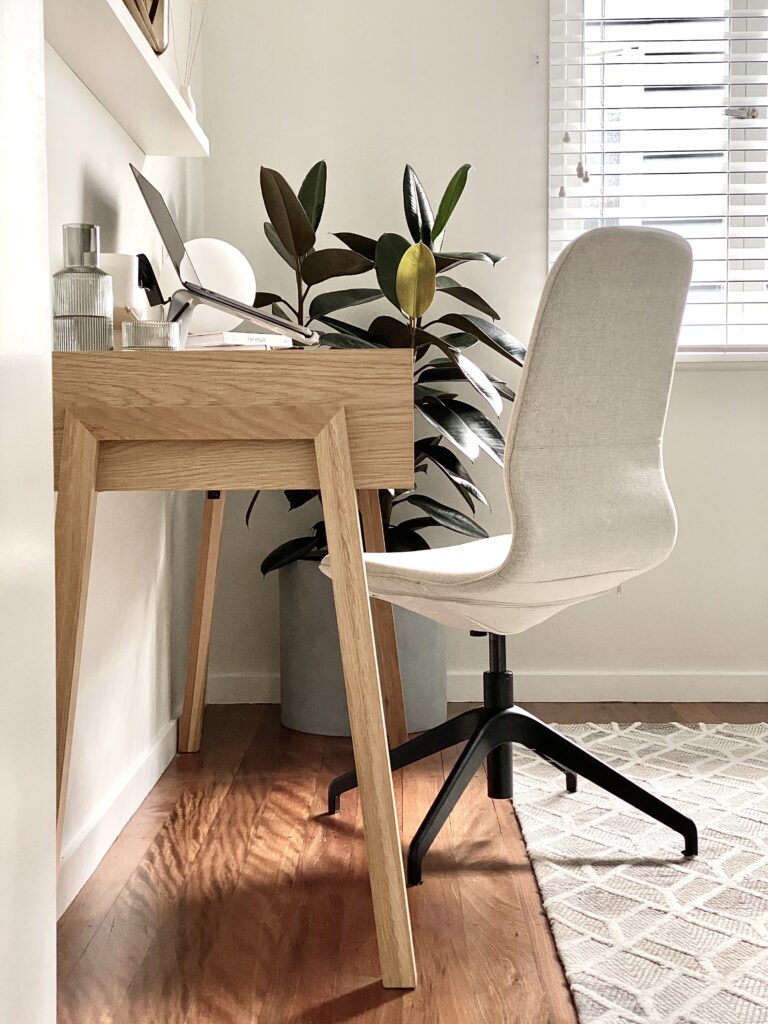 STEP 2
An avid corporate hot-desker in a past life, my home office is a separate room, because I'm currently childless, and a small business owner with quite a bit of physical filing (samples I'm looking at you). It's close to the kitchen and living area though, so should our circumstances change in the future, I'm close to the action (musically speaking, I'm known for having a very good ear). I'm constantly on the go, so need tech that can come with me. On the daily, I'll always reach for samples I'm collating for a project or notes I've jotted down in my compendium, so these must be handy – and I like to physically see a month in advance on my wall so I can easily plan out client meetings.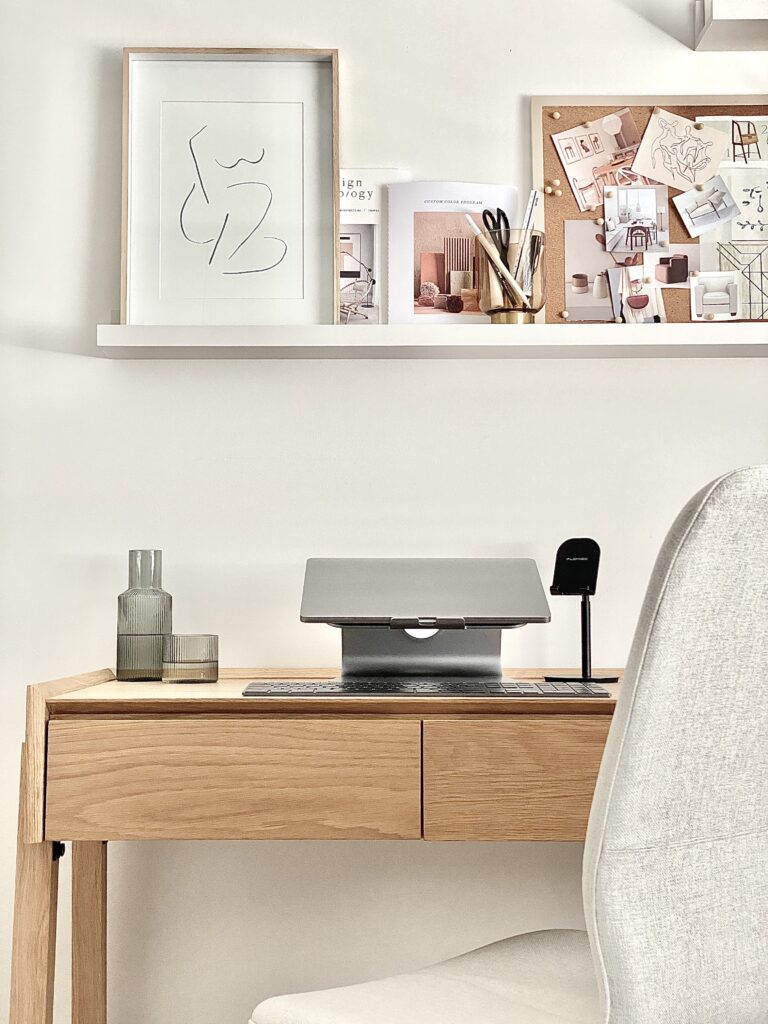 STEP 3
Truth be told, a larger monitor in my line of work wouldn't go astray, but I am constantly visiting clients, and it's really easy to pack up my laptop and take everything with me on the go – by elevating the laptop monitor using a dedicated stand, I only take up a third of the desk area as opposed to half with a bigger monitor, plus I can swivel the screen easily to avoid window glare. A phone stand means I can conduct virtual client briefings hands-free, and use my phone as a clock when not in use. A swivel office chair allows me to get in and out of the desk easily and adjust my seat height. This one also comes with armrests and wheels – but I've always personally hated these on my chairs – you may not be as much of a clutz when it comes to toes and funny bones though!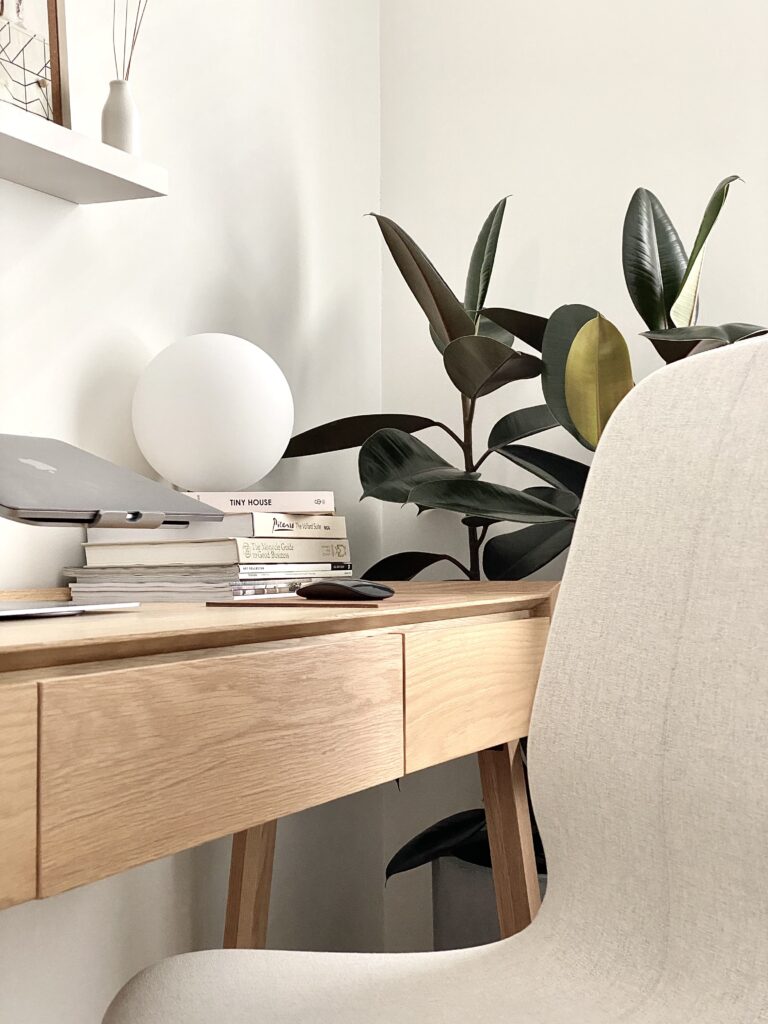 STEP 4
The room has a triple casement window that lets in pretty good natural light, so most of the day I don't need to do anything for a good light source. Because I've positioned by desk on the wall diagonally opposite the window, my laptop screen receives mostly no glare, and if it does, the venetian blinds get a tinker, or my swivel stand – winning! I do have a desk lamp, but as I don't require task lighting, it's more of a decorative touch. Which brings me to the last step…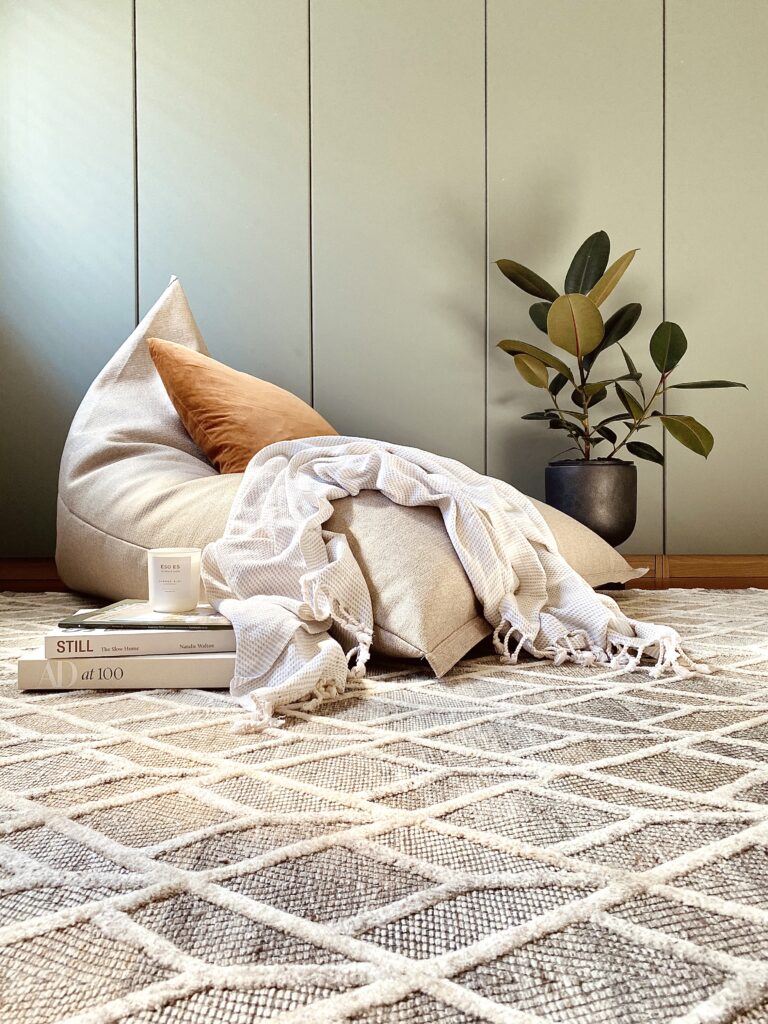 STEP 5
How I wanted things to look. We were working with a 3m x 3m space, so as not to crowd it, I didn't want a mismatched filing cabinet or boxy looking desk. Instead, I opted to have most of my Interior Design samples hidden away in floor-to-ceiling storage (to essentially make it look like another wall), with a drawered, leggy desk, and picture shelving, not only for aesthetics, but to help keep the desk area free for samples planning. I'm a book worm, love a good candle, beautiful lighting, pretty art, and my plant friend to keep me inspired throughout the day – so these were all a must to display, along with the practicalities needed for everyday, like my calendar, mood board, and supplier catalogues.
As you can see, I tried to stay as true to the original concept as possible – but some things just simply weren't in our budget! Here's the full product list:
Desk: Freedom Scholar Desk
Chair: Ikea LÅNGFJÄLL Conference Chair
Desk lamp: Castlery Cedric Table Lamp
Mousepad: Atley.Co Leather Mouse Mat
Laptop stand: Rain Design Inc mStand 360
Phone stand: Flex180 Black S1 Flex Stand
Shelves: Ikea MOSSLANDA shelves (painted in British Paints Gentle Wind)
Wardrobes/storage: Ikea Pax wardrobe frame in White Stained Oak Effect with REINSVOLL doors
Rug: Miss Amara Savannah rug (sold out sorry!)
Accessories: Country Road Adler A3 poster frame, Atley.Co print and ceramic arc (used as pen holder), Marmoset Found vase (used as pen holder), Robert Gordon mini milk vase, Target Australia planter and bean bag (with another from a local supplier – Brookfield Gardens), corkboard picked up from Officeworks and other vases op-shopped or picked up from Kmart Australia and Bed Bath N' Table, and upcycled using The Collective Gen #trashtoterracotta Textured Paint in Any Colour method.
Much love and laughter,
XO